Sometimes it seems to me that some people do not want or are not able to understand. There have been opinions in the public sphere that our Army does not need any new tanks or new armoured vehicles for the infantry. That it should be sufficient to just modernise the current technology – the seventy-twos and BVP. And that we might even save money on that.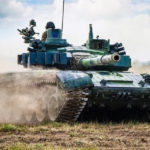 Well, let's say it one more time: Neither the T-72, nor BVP-1 can be modernised! We can do some individual modifications and extend their operability by a few years, but that has nothing to do with modernisation. That technology is almost sixty years old! What is there to modernise on it?
It is typical that if you asked those people who come up with such opinions whether or not they would go to a dentist who uses a dental drill from the 1960s, you would hear completely different arguments. I can hear them talking about technological progress, modern health care and their right to be treated at the highest quality. And the same applies to military equipment.  Moreover, there is another, often forgotten aspect: try to convince a modern young man to serve in an army that uses such old technology…
I'm not saying, however, that we should immediately sell or scrap all our T-72 or BVP-1 equipment. I can imagine, for instance, that such technology can be used for training Active Reserve units.